Almost everyone who visit Osaka must also put and fit in their schedules these two wonderful and amazing places Japan has to offer – Kyoto and Nara. Two different cities but each has its own unique beauty and elegance to offer. Bounded by its great culture and traditions, definitely it is worth your time and effort.
KYOTO – You can see here what an old Japan looks like especially in the Edo Era. Alongside the streets are the old houses and buildings carefully preserved up to the present. You can also see here the oldest temple in the whole kansai region which is the Kiyomizu-dera Temple. Up from here is the spectacular view of the city of Kyoto.
Access:
Ebisucho Station (Sakaisuji Line) —>Awaji Station (get off and change to )—->Kyoto Hankyu Line towards Kawaramachi Station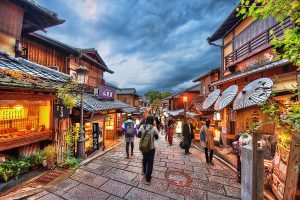 NARA – With its wide park, temples, museum and world heritage sites, We are also sure that going here will be one of your memorable stay here in Osaka, Japan. Not yet mentioning the lovely DEERS which are so behaved and calm and of course cute! They are also so natural that it seems they already knew you for a long time and also accepts foods which you give them. You can feed them with their favorite cookies which you can buy in the area.
Access:
Ebisucho Station (Sakaisuji Line)—>Nippombashi Station—> (proceed to by walking at Kintetsu Nippombashi Station just below the Nippombashi station and ride here until)—-> Kintetsu Nara Station